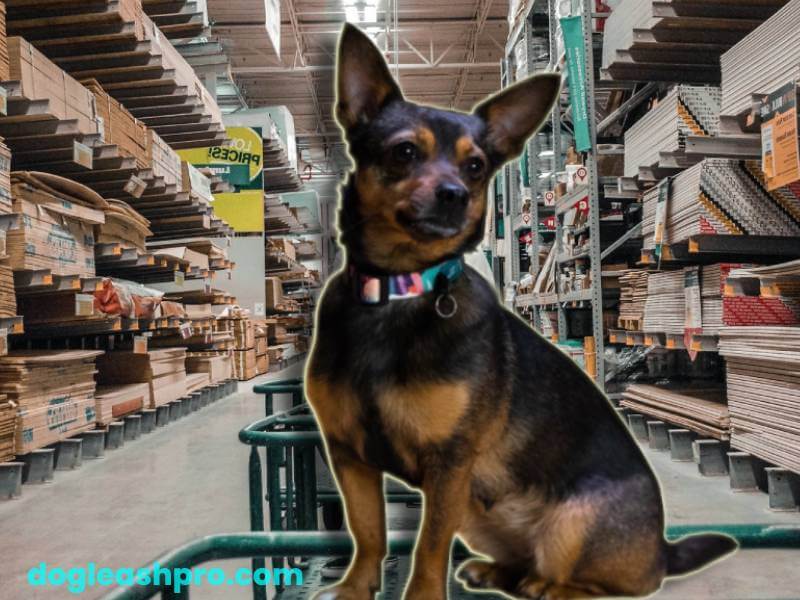 Many dog owners feel guilty leaving their furry friends at home while they visit Lowes. But you'll be glad to know that many Lowes are dog friendly so you can take your dog with you without any problem. As a dog owner myself and a Lowes customer, I decided to contact Lowes customer service myself, and here's what I found out.
Does Lowes allow dogs? Yes, the majority of the Lowes stores (not all) are dog friendly. Depending on where you live, you can find out if your local Lowes store is dog friendly by visiting their website and using their store locator and directory to find out if your local Lowes allows dogs in the store. Each store has its own pet policy so be sure to check with your local Lowes store before you visit with your pup.
This means both service dogs and your pet dogs are allowed in Lowes, the North Carolina-based mega-chain home improvement store. It is why many Lowes employees and store staff rarely ask for documentation or proof that your service dog or animal is licensed, certified, or trained.
But it's crucial that you have your pet on a leash and utilize a rope dog leash to have full control of your pup when you're at Lowes. Save your retractable dog leash for walks in the park.
Lowes pet policy
After speaking with Lowes customer service, here is Lowes nationwide Pet policy as of 2022:
"Lowes' nationwide pet policy allows well-behaved, leashed, harnessed or carried service animals and pets in their stores."

Lowes customer service and store managers
This is why you may see many Lowes customers with their canines or little puppies (that are not certified service dogs) walking up and down the aisles when you visit this home improvement store.
It is no surprise that Lowes is dog friendly since they also have a cleaning and pet supplies category carrying dog toys, treats, beds, crates, and miscellaneous supplies for your furry pooch.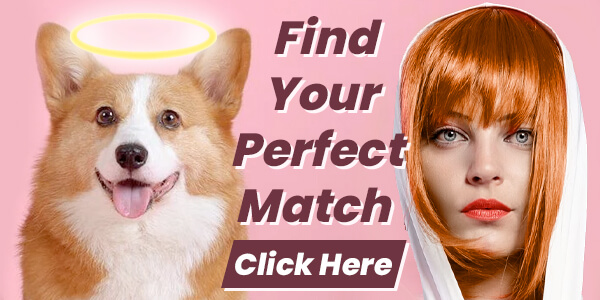 How to find out if your local Lowes is dog friendly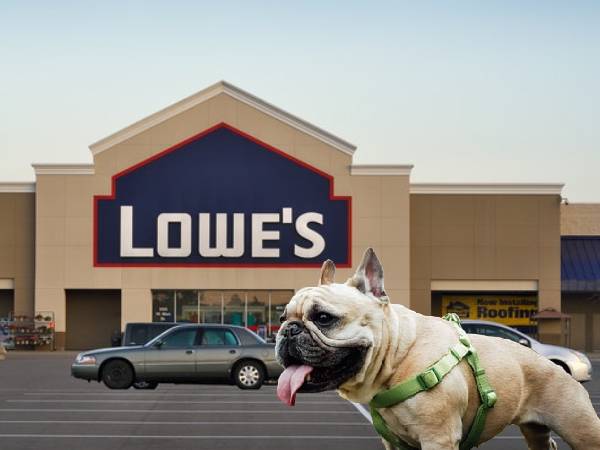 To find out if your local Lowes is pet friendly or dog friendly, here are the following steps:
Type in either your zip code, city, state or if you know the store #, you can type that in as well.
Click on "View Store Details" which will bring you to that Lowes webpage.
Scroll down and look to the right.
You will see a "Store Features."
If you see "Dog-Friendly," then that particular Lowes store allows you to bring your dog with you when you visit.
Now, here is a secret we want to share with you. Since Lowes does not share this information on their website or online (we double-checked with Lowes employees and customer service), we did the digging (research) for you.
We found a particular Lowes store near where we live that did not list "Dog-Friendly" under its Store Features. We wanted to know why that specific home improvement store does not allow dogs inside so we called that particular Lowes store in the hope to find out why they wouldn't be dog friendly and allow dogs in their store.
Here is our interaction when we spoke to the store manager:
Me: Hi, I visited your store online and noticed your particular Lowes is not dog friendly. Is..
Store Manager: Actually, we are in fact dog friendly. You can bring your pet dog into our store during your visit.
Me: Oh, interesting. I thought your particular store is not dog friendly since it is not listed under your Store Feature section.
Store Manager: Yea, if it is not listed on our store website, make sure to always call us to double-check that information because we do allow dogs in our Lowes store and we are pet friendly so feel free to bring in your dog when you're visiting. We are more than happy to welcome you and your pup to our Lowes.
Me: I see. That's good to know..
Store Manager: Yea, just make sure if you are bringing big dogs with you that they are on a lease and if you have small dogs, they can sit inside the Lowes wagon that the employees have placed at the front of the store.
Fun Fact: Many dog owners will have their pooch wear a dog muzzle to avoid any potential dog biting lawsuit especially in a crowded space like in the Lowes home improvement store.
So the key takeaway here is that it is always best to pick up the phone and call your specific local Lowes to find out if they allow pets or animals in their store if you are ever uncertain whether they are dog friendly or not.
Store etiquette for dogs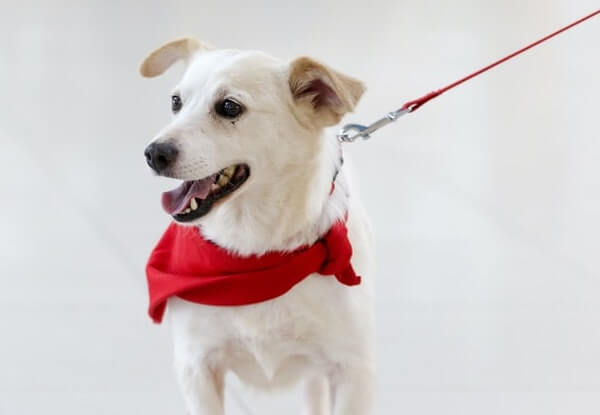 While Lowes dog policy allows your furry friends to tag along with you while you're shopping, it's always a good idea to train your pooch with proper dog etiquette when visiting any stores.
Here are some quick friendly reminders:
Always keep your pup on a leash
Use a leash that isn't too long and isn't too short either. It's best to use a fixed-length leash with only a small room so your pup does not become a tripping hazard or is not in other shoppers' way when they are trying to take a closer look at an item on the shelf.
Allow your canine to greet others but with all four paws on the floor
This ensures that other shoppers are not surprised when your dog leaps at them out of excitement. Your pooch should already be trained to be friendly with other people and dogs.
Clean up after your dog
It's very normal for many house-trained dogs to still have an accident if they are in a new environment with unfamiliar sounds. Some canines may be confused with their new unfamiliar environment and then forget their manners.
If this happens, no fret. Simply clean up after them. Be prepared to bring poop bags with you and disinfectant wipes. If you don't have it, no worries. As the Lowes employee nearby to provide you a poop bag and disinfectant wipes. You can inform the employee that you will clean up the accidents yourself.
Purchase any damaged item caused by your pooch
If you walk by the Lowes' pet supplies section, make sure your pooch does not damage or chew on any toy. If any store items are damaged, it's best that you purchase them.
We highly recommend that you train your pups with basic commands like "leave it" or "drop it" before you visit any store with them. If your pooch wants to bring home a toy, have him use his nose instead of his mouth or teeth to choose the toy he wants.
Reward your dog for good behavior
When you notice good behavior from your pooch, be sure to reward with verbally with "good dog" or with a savory treat. This message will let your pup know that this is the right behavior.
Hint: Use a front-clip dog harness so you have full control of your pup. When you lightly pull your dog, he will be facing you instead of getting distracted There should be a D-Ring on the dog leash so you can clip it to the front of the dog harness.
Past reports of dog attacks in Lowes store
The above store etiquette for dogs is extremely important in order to avoid dog attacks in Lowes.
Speaking of this, in early January of 2014, there was a dog attack incident in a Lowes store in Murrieta, California. Murrieta is a city that is located between Los Angeles and San Diego.
The dog owner had his 3-year-old purebred Akita on a leash and was walking around in the garden department of the home improvement store when his dog attacked and bitten a 3-year-old toddler in the face and neck. The bites were so severe that the little boy had to get almost 50 stitches. Luckily the then-toddler made a full recovery.
The boy's parents then filed a lawsuit against Lowes. Many wondered why Lowes has a dog-friendly pet policy when it is facing a lawsuit and some comments we found on a forum may explain why.
The forum commentator said it could be that the Lowes corporation performed a market survey and came to the realization that customer loyalty and satisfaction are greater than the increased insurance costs and risk.
In fact, many commentators support and are happy with the dog-friendly pet policy.
Fun Fact: There are actually 4 types of dog muzzles depending on the situation and your dog's activity. The basket muzzle is a comfortable dog muzzle that still allows your dog to comfortably open their mouth, pant freely, and eat small treats for good behavior.
Customers' reviews on Lowes friendly pet policy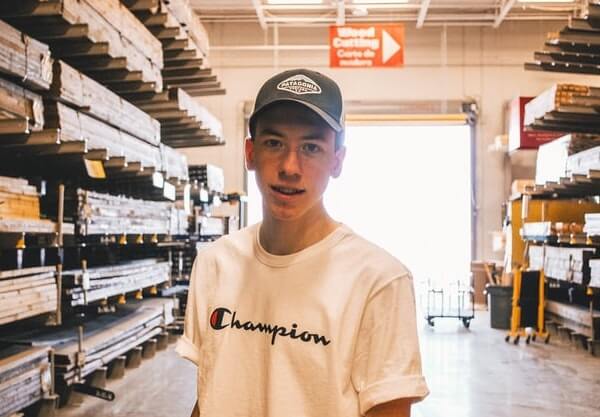 Many dog owners are happy to hear that Lowes is dog friendly and has a friendly pet policy. Latest reviews left last year from customers show their satisfaction of allowing their pet dogs into the store with them.
Here are some that we found:
"Lowes has always been a great place to pick up stuff to improve your home, or fix things, or buy a bunch of stuff you didn't even know you needed till you got there, but I admire them for being so dog friendly."
"I've seen many dogs in there over the years and enjoy bringing mine there, he loves cruising the aisles and it is a great way to expose your pups to a lot of sights and sounds and smells."
"They have a great selection of products in various categories. They do price matching…I could honestly live in Lowes. And they allow you to take your dog in! Which is a plus!"
Well-known service dog at Lowes
Lowes also supports veterans and most veterans have service dogs. In fact, this home improvement store is known for hiring veterans.
Speaking of service dogs, in South Texas, Lowes hired an Air Force military veteran and his famous service dog named Charlotte. Charlotte is a Golden Retriever that wears a homemade red and blue Lowes branded vest.
This further shows that Lowes has a friendly pet policy toward both service dogs and your pet dogs.
Here is Charlotte, a service dog at Lowes:
Final thoughts
Many of the Lowes home improvement stores are dog friendly but not all. If you're planning to shop at Lowes and know it will take a few hours and want to bring your pooch with you, consider checking out their website listed above and call the local store's employee or store manager to confirm its dog friendly pet policy.
Remember, not all customers at Lowes feel comfortable around dogs. Therefore, be mindful to always keep your canine on a leash so you have full control of them and to avoid any mishaps or potential dog bite lawsuits.
Related Questions
Are all Lowes dog friendly?
Generally, all Lowes stores are dog-friendly. The Lowes website has a "Find a Store" section in which customers can select and shop online at a specific store nearby where they live. When they click on the Lowes store near where they live, a separate page pops up which lists that particular Lowes store hours, address, and phone number.

This particular page will have a "Store Features" section near the middle of the page. If you see "Dog-Friendly" on that list, then that particular Lowes store allows dogs. However, this can be misleading because some Lowes store pages do not have the "Dog-Friendly" listed under its Store Features, but they do allow dogs into the store. 

If you do not see "Dog Friendly" listed under the "Store Features" section, we highly recommend that you call that Lowes store to confirm. Most likely that particular Lowes store will and does allow dogs as described in the article.
Why are dogs allowed in Lowes?
Lowes understands that many of its customers are dog owners. The home improvement store also has an Animal & Pet Care department where they sell dog beds, clothing, accessories, and crates to name a few. 

The only requirement Lowes asks of its customers is that the dogs remain well-behaved in the store. This is to ensure a stress-free shopping environment for all Lowes customers in the store. Most Lowes employees will acknowledge that you have a dog and leave you alone. 

If your canine friends accidentally poop on the floor, Lowes asks that the dog owner pick up after their dogs. This way, it is clean and safe for other customers and dogs.
Resources:
https://losangeles.cbslocal.com/2014/01/03/murrieta-dog-owner-arrested-after-lowes-store-attack/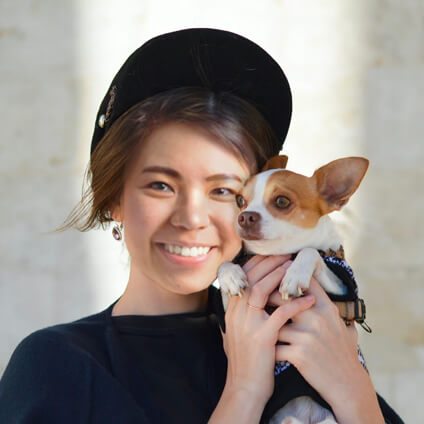 With over five years of specialized experience as an animal writer, my expertise lies in dog nutrition, health, behavior, grooming, and training. I am dedicated to delivering helpful and informative content that caters to the well-being of our furry friends. My primary goal is to empower pet owners with knowledge and ensure our canine companions thrive in health and happiness. In my free time, I love volunteering at local dog rescue centers.