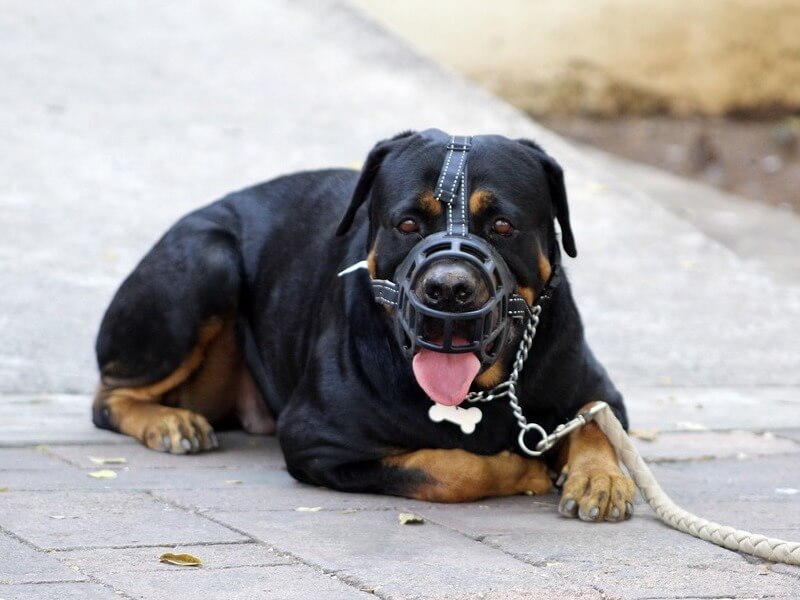 There are four main types of dog muzzles. Basket muzzle, occlusion muzzle, short snout muzzle, and homemade dog muzzle. Whichever one you decide to purchase for your dogs, make sure the dog muzzle is safe and comfortable for your furry friends. The right size, fit and style will ensure that the dog muzzle is used effectively and will stay securely and comfortably on your dog's snout.
If you already know the types of muzzles you're getting your furry friends, make sure you understand how a dog muzzle work and its intended use and purpose.
Basket Muzzle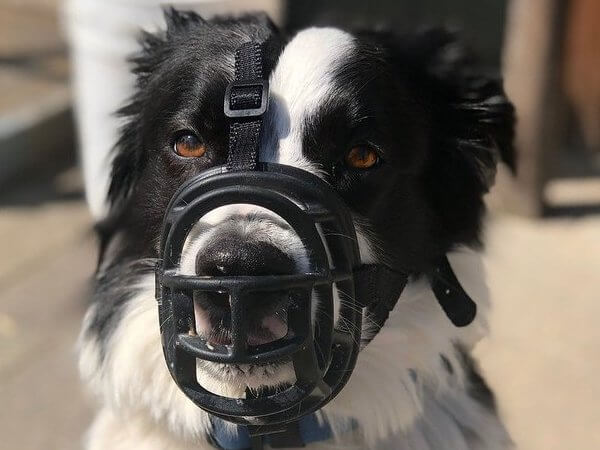 The basket dog muzzle forms a basket weave pattern that is strapped to your dog's nose and mouth while still allowing them to open their mouths comfortably and pant freely. Used as a dog muzzle to prevent biting, the basket muzzle allows airflow which keeps your dogs cool. To provide a comfortable and secure fit, many basket dog muzzles have adjustable straps that wrap around the back of the dogs' head.
If your dog has a habit of constantly barking, using a dog muzzle for barking will help to train your dog not to bark.
While some may view the basket muzzle to be an inhumane option, the opposite is true. Used as a great training tool, many canines enjoy wearing the basket dog muzzles over the soft occlusion muzzles. The basket muzzle provides enough space for dogs to open their mouths to pant freely, drink water, and eat small treats. Note that dogs can eat small to medium-size treats through the basket muzzle, but they will not be able to eat food or chew on inedible items. Thus, the basket dog muzzle is a great tool to help develop good eating habits or train dogs not to chew on furniture or inedible objects around the house.
Basket dog muzzles are made from a variety of materials, including wire, plastic, silicone, and biothane. We will discuss each of them and point out the advantages of using each one.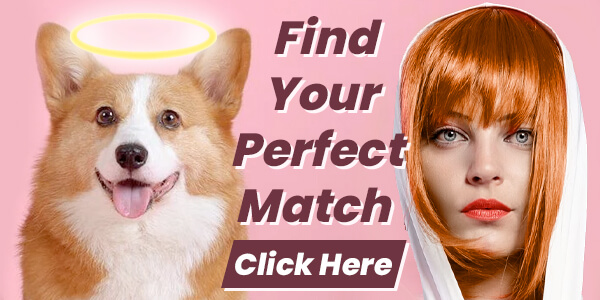 Wire basket muzzle. Of all the materials used for basket dog muzzle, the wire basket muzzle is the sturdiest. If your dog has a habit of biting, this is a perfect dog muzzle for biting habits. If you do end up getting this one, make sure to add a bit of padding for comfort and to prevent your dog's nose from constantly rubbing against it.
Plastic dog muzzle. There are many different types of plastic dog muzzles. You can find soft or moldable ones to very rigid ones. Most affordable dog muzzles you see today are most likely made from plastic. Be aware because some plastic muzzles are a bit cheap so they may be of poor quality. If you have aggressive or strong dogs, the plastic dog muzzle may not be tough enough for them. It should be strong enough for the average dog.
Silicone dog muzzle. Softer than plastic dog muzzle, many dog owner prefer the silicone dog muzzle. You're probably aware that silicone is considered more food and child safe than plastic. Especially when the basket dog muzzle is sitting close to the dog's snout and mouth, silicone dog muzzle may be the one you prefer for your pup.
Biothane muzzle. Made from coated webbing, the biothane muzzle is soft and flexible, and more durable than leather. Although it's lighter than leather, it is just as tough as leather. Many pet owners love the biothane muzzle because it is an ultra-comfortable basket dog muzzle for their pup. These are also some of the best on the market.
While training your canines, you can purchase basket dog muzzles that have slits along the side. This allows you to easily slip in larger dog treats like sliced hot dogs through the slit bars. Receiving treats during training is an opportunity to reward dogs for their good behavior.
Although you can purchase a ready-made basket muzzle, many dog owners also choose to have the basket dog muzzle custom-made to fit their canines' exact snout shape.
A basket muzzle is required when your dogs are outdoor at a local dog park socializing with other dogs and people or walking with you in the neighborhood. When your dogs are walking, running, or playing, they will naturally pant and drink water. With that, the basket dog muzzle is the choice for active dogs.
The most secure way to prevent your dogs from biting is to go with the pet safe wire basket muzzle. Wire basket muzzle is also great for larger dog breeds. Depending on your dogs' breeds and the strength of the dogs' jaws, the soft nylon and plastic basket muzzle might not be durable enough to withstand their biting. Therefore, the soft nylon or plastic basket muzzle is best reserved for smaller dog breeds.
Some basket dog muzzles allow for sufficient mouth movements. For instance, your dogs can pant freely, but not drink water or eat. Other basket dog muzzles allow your dogs to eat small treats, drink water, pant freely, but not bark. If you have active dogs or you're planning to take them outside, we recommend choosing a comfortable basket muzzle that allows them to pant freely and drink water.
Occlusion Muzzle
Less comfortable than the basket dog muzzle, the occlusion muzzle is usually made from fabric such as nylon sleeve or mesh. This type of dog muzzle is like a straightjacket that wraps around your dogs' mouth thereby keeping the mouth closed. Also known as the soft muzzle, the occlusion muzzle can include adjustable nylon straps that wrap around the back of your dogs' head to ensure a secure and comfort fit.
Besides nylon, the occlusion muzzle can also be made of other types of materials such as leather.
Used primarily to control your dogs' barking and biting, the soft muzzle can be used as a dog muzzle for barking or a dog muzzle for biting.
Please only have your furry friends wear the occlusion muzzles for short periods of time. Dogs can wear the occlusion muzzles during short dog grooming procedures or brief veterinary visits. Other than that, avoid long-term wear of the occlusion muzzle because it prevents your dog from any form of mouth movement including panting. Panting is a form of canine thermoregulation in dogs. Since dogs can't sweat as humans do, they pant to cool themselves down and dissipate heat from inside their bodies.
Never have your dogs wear the occlusion muzzle in hot weather, whether indoor or outdoor. If your dogs are active and love to play outside, avoid having them wear the occlusion muzzle in hot temperatures. They will not be able to pant, which can cause them to overheat. Overheating may lead to a heat stroke.
The occlusion muzzle also prevents your canines from eating, drinking, or barking. If you do choose to get the occlusion muzzle for your dogs, remember to only use it for very brief periods and never leave your dogs alone or unsupervised with the occlusion muzzle on.
Please note that since your dogs can't eat when wearing an occlusion muzzle, it is not the best dog muzzle for training. You won't be able to reward your dogs with treats when training them to accept the muzzle or when trying to modify their behaviors. However, it is a great tool to help develop good eating habits or train dogs not to chew on furniture or inedible objects around the house.
Short Snout Muzzle
If you have short nose dogs, neither the basket dog muzzle nor the occlusion muzzle will fit them. Instead, short snout dogs should wear short snout muzzles. Short nose dogs include Pugs, Bulldogs, French Bulldogs, English bulldogs, or Boston Terriers to name a few.
A short snout muzzle is usually made of breathable mesh. It is a mask that covers the entire face while leaving a comfortable snout opening so short nose dogs can breathe easily and pant comfortably through it without biting or barking. Some short snout muzzles have the "eye hole" design so it is more comfortable for the dogs' eyes. The eye hole design also allows short snout dogs to see clearly.
Homemade Dog Muzzle
In an emergency, if you do not have any other dog muzzles around, the good news is that you can make the dog muzzle yourself. With no other choice, you can resort to a DIY muzzle for dog. This homemade dog muzzle should only be used temporarily until you find the right dog muzzle for your furry friends.
The DIY muzzle for dog can be made in several ways.
You can use your dog's leash, a roll of gauze, or a pair of pantyhose to wrap around your dogs' snout and mouth. Please note, these materials aren't the best so remember to buy the right dog muzzle for your canine and keep it in your dog first aid kit.
To put on the homemade dog muzzle, you'll want to approach your dogs slowly and have them sit or lay down with you. With the fabric or roll of gauze, you will wrap it around your dogs' snout and the back of their head. To finish, you tie it off at the back of your dogs' head and make sure the homemade dog muzzle is securely and comfortably fitted.
No matter which dog muzzle you decide to purchase for your furry friends, make sure it fits comfortably and securely as well as allowing your canines to breathe properly.
On a separate note, we've provided a review of the Zuke's Mini Naturals treats we mentioned above. We've also included customers' reviews of this delicious dog treat.
The Zuke's Mini Naturals dog treats are soft and small, which makes them great for puppy training. Each bite is wholesome and tender and your puppy will want more of it. The small treat size allows your dog to focus on the training instead of focusing on chewing her food. Thus, the treat is not distracting her from the training. Each treat is less than 3 calories so the reward is guilt-free. No matter which flavor you choose for your puppy or dog, each of them is made of real ingredients with whole food berries.
Zuke's Mini Naturals Key Features:
Available in various flavors: Chicken, Peanut Butter, Duck, Peanut Butter & Oats, Pork, Rabbit and Salmon
Available in 3 different sizes: 5 oz, 6 oz, and 16 oz pouch
Made of real ingredients and whole food berries
Less than 3 calories per treat
Wholesome, small, and tender bites
Price: $12
Zukes Dog Treats Reviews:
Many owners said their dogs loved all the flavors of Zuke's Mini Naturals and were happy with the small size of the treat during training.
Owners noted that these treats are great for dog training and teaching their puppies tricks.
The majority of the customers' dogs love and are crazy about these treats. The owners recall every time they hand out the treats, their dogs and puppy get very excited.
Almost every positive review said they love how these quality training treats are made of natural ingredients and that there are no artificial colors or flavors.
While some customers noted how strong the treats smell, they did point out that this powerful scent makes them a strong food lure during training and a rewarding, healthy treat for their dogs.
A few customers pointed out that if you leave the treats out on a table for a while, the treats will easily dry out. If you aren't careful and the treat bag isn't sealed properly, the entire bag can dry out in days.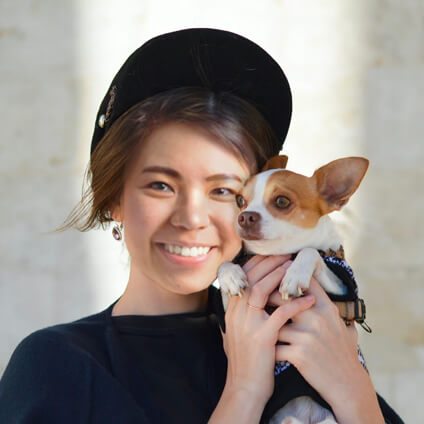 With over five years of specialized experience as an animal writer, my expertise lies in dog nutrition, health, behavior, grooming, and training. I am dedicated to delivering helpful and informative content that caters to the well-being of our furry friends. My primary goal is to empower pet owners with knowledge and ensure our canine companions thrive in health and happiness. In my free time, I love volunteering at local dog rescue centers.