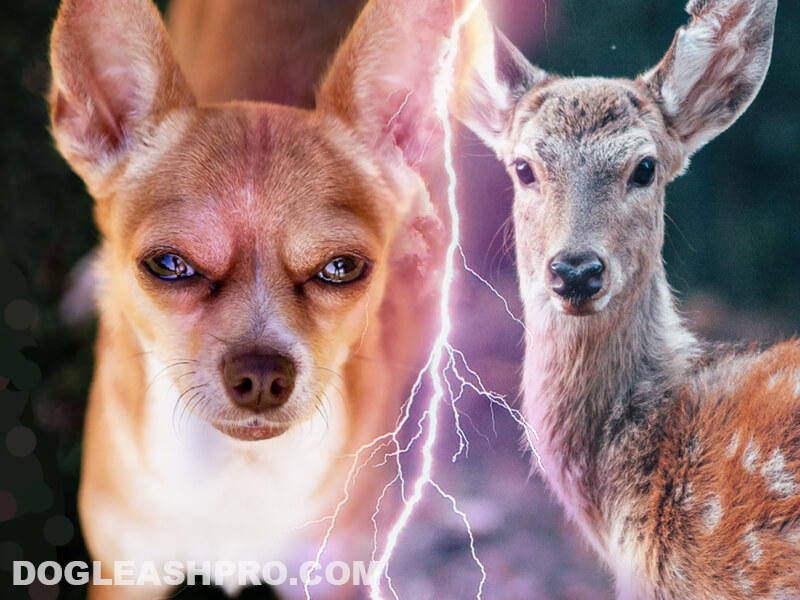 Whether you're thinking about getting a Deer Head Chihuahua or are interested in learning more about Deer Head Chihuahua, you've come to the right place! We'll discuss everything you need to know about Deer Head Chihuahua such as their health, daily needs, size, expressive personality and temperament, whether they make great family dogs, and many more.
We've also shared 10 interesting facts about this dog breed you don't want to miss. Let's get right to it!
What is a Deer Head Chihuahua?
Based on the shape of their heads, Chihuahuas can be classified into two types, namely Deer Head Chihuahuas and apple head Chihuahuas. A Deer Head Chihuahua is one whose head is shaped like the head of a deer: a narrower head with a long and protruding snout. A Deer Head Chihuahua is also referred to as reindeer head Chihuahua or deer Chihuahua.
Deer Head Chihuahua: Pros and Cons
Deer Head Chihuahuas are in many ways similar to their apple head brethren, but their slightly different head shape comes with its unique attributes. These traits have their perks as well as drawbacks, as we'll discuss ahead.
Pros
Some physical and temperamental attributes of the Deer Head Chihuahua make them very useful as pets. These are some of their pros:
Excellent watchdogs.
Easy to groom.
Long lifespan.
Don't require much space.
Easy to carry.
Very loyal and protective of their owner.
Cons
While the small bodies, bold attitude, and alert temperament have their perks, they have drawbacks too. They are: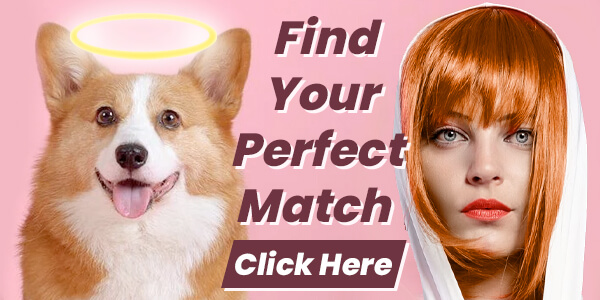 Excessive barking.
Hostility towards new faces.
Delicate and fragile bodies.
Inability to handle the cold weather.
Rash and hot-headed.
Deer Head Chihuahua physical appearance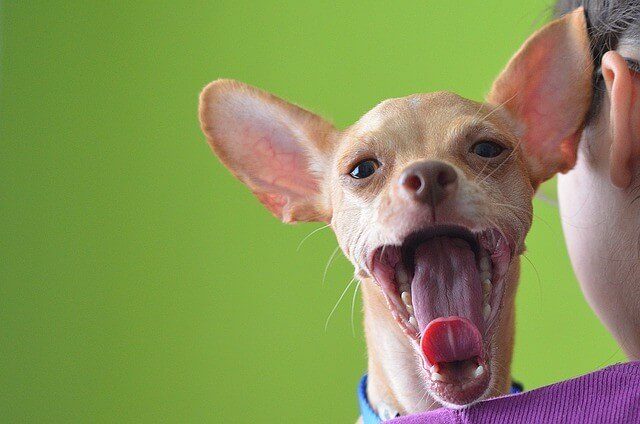 Deer Head Chihuahuas are recognized by their longer and narrower snouts. All Chihuahuas with a face resembling that of a deer are filed under Deer Head Chihuahuas.
Deer head Chihuahuas include all Chihuahuas with a 45-degree slope between the muzzle and the forehead. Although the AKC doesn't recognize the deer head Chihuahua as a distinct breed, the name is still widely used to differentiate between them and the apple head Chihuahuas.
Baby Chihuahuas have an opening in their skulls, called the molera. In a Deer Head Chihuahua, the molera is smaller than its apple head Chihuahua counterpart. This is where the deer heads have an advantage, as an enlarged molera can lead to health complications.
Other distinct features include smaller eyes, bigger ears, a larger body, and a pointier muzzle.
How big do Deer Head Chihuahuas get?
Although Deer Head Chihuahuas are among the smallest dog breeds, they are still larger than most Chihuahuas. In fact, their large size is one of the reasons why the American Kennel Club (AKC) does not recognize them.
The male and female Chihuahua look a lot alike and have an identical average height and weight:
| | | |
| --- | --- | --- |
| | Female Deer Head Chihuahua | Male Deer Head Chihuahua |
| Height | 8 to 12 inches | 8 to 12 inches |
| Weight | 7 to 10 pounds | 7 to 10 pounds |
DOGLEASHPRO.COM
Deer Head Chihuahua colors
Deer Head Chihuahuas come in all different Chihuahua colors. You'll see Deer Head Chihuahuas in grey, white, black, silver, fawn, and brown color coats. They may be single-toned or adorned with various patterns. Pure white and pure black colors are the rarest among Deer Head Chihuahuas, whereas fawn is the most common.
Deer Head Chihuahuas usually have dark brown or dark ruby eyes. Some light-colored dogs have eyes with lighter shades of brown. Any other color is a sign of cross-breeding.
Deer Head Chihuahua coat length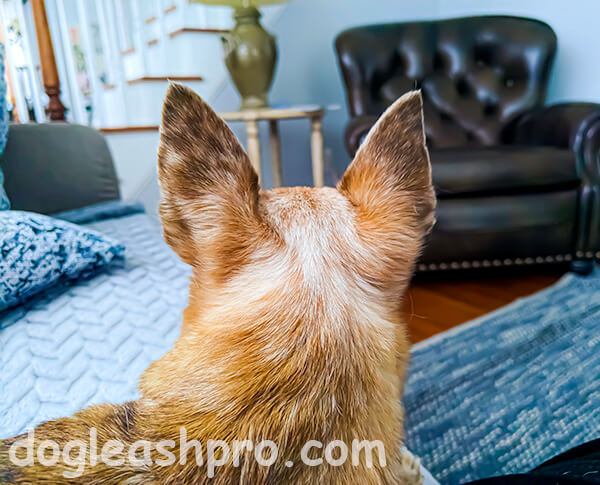 Fur length varies, and you can find Deer Head Chihuahuas in both long and short coats. Due to their physical appeal, Deer Head Chihuahuas with long coats are more popular, pricier, and frequently sought after than the short coat Deer Head Chihuahua.
Short coats naturally have lower maintenance needs than long coats. Brushing them once a week with a short-bristled rubber comb or combing glove is enough to keep the fur clean.
Long coats require more upkeep and frequent grooming, not just to keep them clean but also to maintain their dazzling appearance. Regular grooming every two days with a long-bristled brush or comb will keep the long hair tangle-free and clean.
Bathing requirements for both coat types are similar, and the dogs should shower every 4 to 6 weeks. If your Chihuahua likes to sit and sleep with you, you may need to bathe them more often.
Deer Head Chihuahua: 10 Interesting Facts
Two apple head Chihuahuas can give birth to a Deer Head Chihuahua. Chihuahuas carry the gene for both head types.
Due to their bigger size, Deer Head Chihuahuas are considered safe from many congenital diseases that usually plague smaller Chihuahuas.
Chihuahuas come in color combinations and patterns too. The AKC recognizes about 30 different coat colors of Deer Head Chihuahuas.
The rarest color among Deer Head Chihuahuas is pure white, followed by pure black.
They're among the longest-living dogs. A Deer Head Chihuahua can live up to 18 years or more.
The distinct perky Chihuahua ears are absent from pups, who have floppy ears. The ears perk up once they're five months old.
They make excellent emotional support dogs because of their loving nature.
Their large ears and alert demeanor also make them competent hearing dogs for deaf people.
While long coat Chihuahuas have longer fur, it's actually the short coat variety that sheds more.
While they aren't very welcoming to other dogs, Deer Head Chihuahuas get along quite well with cats.
Deer Head Chihuahua personality
The alertness and skeptic nature of Deer Head Chihuahuas make them excellent guard dogs. However, this also means that they can act hostile around visitors and new faces. Despite that, Deer Head Chihuahuas make lovable and loyal companions.
Deer Head Chihuahua temperament
The Deer Head Chihuahua's boisterous and bold attitude is in contrast to its delicate body. These little dogs don't shy away from a confrontation and are willing to take on any foe despite the size disparity.
Unfortunately, this behavior often leads to conflicts with bigger dogs, and the Chihuahua usually picks up severe injuries.
Deer Head Chihuahua also get annoyed easily, which is why they are not suitable around young children.
Socializing your Deer Head Chihuahua
Adult Deer Head Chihuahuas don't socialize very easily. This habit needs to be developed when they're young. Otherwise, they'll have a hard time making friends.
Deer Head Chihuahuas: Do they make good family dogs?
Unfortunately, Deer Head Chihuahuas aren't ideal family dogs. They usually bond with just one person and behave very differently with others.
Deer Head Chihuahuas see kids as competitors and may act hostile towards them, even if they are part of the family. These traits make Deer Head Chihuahuas better suited for someone living alone.
How to care for a Deer Head Chihuahua
Given their rowdiness, it's best to keep your Chihuahua on a leash and away from bigger dogs. Deer Head Chihuahuas are known for their big-dog attitude and often get into situations where they end up hurt.
Regular visits to the vets are also necessary for all Chihuahua breeds. These checkups will help you catch any ailments before they can cause trouble.
Deer Head Chihuahuas feeding and diet
Being small, Deer Head Chihuahuas don't require a lot to keep them nourished through the day. But it is vital to give them a balanced, high-quality diet with just the right amount of calories.
| | |
| --- | --- |
| | Feeding and diet |
| Calories per day | 350-400 calories per day |
| Cups of kibble per day | 1 to 1 ¼ cups of kibble a day, depending on body size |
Deer Head Chihuahua puppies
Deer Head Chihuahua puppies weigh as much as a deck of cards and are very tiny. They also have narrow snouts and collapsible skulls, which help them get out of their moms.
Unfortunately, despite the collapsible heads, narrow faces, and tiny bodies of the puppies, female Deer Head Chihuahuas have a hard time giving birth and usually require a C-section.
Deer Head Chihuahua grooming and shedding
Deer Head Chihuahuas don't shed a lot. Still, it's a good idea to brush their coat and bathe them every 3 to 4 weeks to keep the shedding in check.
Brushing frequency depends on the coat length. Long coat Chihuahuas need brushing every other day, whereas short coat Chihuahuas only need it once a week.
Deer Head Chihuahua exercise requirements
Deer Head Chihuahuas are full of energy and require regular exercise. Even though they burn many calories following people around on their tiny legs, they still need about 20 to 30 minutes of exercise every day.
Deer Head Chihuahua training
Deer Head Chihuahuas don't require much effort to train. Despite being fussy, they like pleasing their owners, and it's easy to teach them various commands.
Given their temperament, it's best to keep the training sessions short, the commands consistent, and the rewards frequent. With the right training strategy, your Chihuahua will be much less likely to misbehave.
Common health problems in Deer Head Chihuahua
Deer Head Chihuahuas are susceptible to the usual Chihuahua health issues. There is a widely-held belief that these Chihuahuas are more resilient to diseases; however, there's no verifiable evidence for it.
Some typical Deer Head Chihuahua health issues are:
1. Hypoglycemia
Hypoglycemia occurs when the dog's body cannot produce or retain enough blood sugar to sustain itself. Feeding the dog multiple times a day can take care of this problem.
2. Patellar luxation
Patellar luxation means dislocation of the kneecap, and it can happen randomly in some Deer Head Chihuahuas. Once the dog develops this condition, it would require corrective physical therapy or surgical treatment.
3. Tracheal collapse
If your Deer Head Chihuahua is making a honking sound or coughing a lot, he or she may have a tracheal collapse. It happens when the supporting rings in the dog's windpipe buckle, making breathing difficult. It is generally treated with medications, but more severe cases require surgery.
4. Osteoarthritis
In this common Chihuahua condition, the protective lining between joints wears off, and the bone-on-bone friction causes severe agony. Therapy, medicines, and steroids may help ease the pain, but the solution is replacement surgery.
5. Dental diseases
A lot of Deer Head Chihuahuas lose their pearly whites to decay and gum diseases. That's because Chihuahuas' teeth are tiny and closely packed, making them harder to clean. Practicing regular oral hygiene can keep these issues at bay, but periodic dental checkups are also necessary.
6. Cardiac issues
Cardiac issues are one of many health issues in Deer Head Chihuahuas, and heart disease is the biggest reason most of them struggle during their old age. These diseases can be in-born, or they may develop due to poor physical health.
Most of the conditions we've mentioned require expensive treatment, medication, therapy, and surgery. Considering the high likelihood of your Deer Head Chihuahua falling victim to some of those, investing in a good health insurance plan is a wise decision. This option will ease your financial burden by letting the insurance provider deal with your dog's medical expenses.
Deer Head Chihuahua mortality
Studies have shown that cardiovascular diseases are the leading cause of fatality among Chihuahuas. Trauma (accidents that cause life-threatening injuries) and infectious diseases are respectively second and third among Deer Head Chihuahua fatalities.
How long do Deer Head Chihuahuas live?
Deer Head Chihuahuas have a long lifespan. They live a good 14 to 18 years if infections, genetic diseases, and accidents don't cut their journey short. To put it into perspective, that's as long as 90-100 human years!
Deer head Chihuahua breeders
Deer Head Chihuahua puppies can cost $400 to $1200 depending on the coat, purity, and size. Purebred Deer Head Chihuahuas cost higher, and breeders may try to pass a mix dog as purebred.
Toy dogs are often bred unnaturally and can carry several congenital disorders. But you can find responsible breeders who are honest and prioritize the dog's wellbeing above everything.
How to train a Deer Head Chihuahua
Training is done best at an early age. Chihuahuas are headstrong, but they also want to please their owner. They may try to get their way by using their cuteness, but you need to establish your authority over them.
Deer Head Chihuahua summary
Deer Head Chihuahuas are adorable and easy to carry around, but they're also intelligent and loyal. They form a strong bond with their owner and are very protective of them. Deer Head Chihuahuas don't care about their size and may lash out at much larger dogs.
But with proper training and exercise, Deer Head Chihuahuas make perfect companions.
Size: 8-12 inches
Weight: 7-10 lbs.
Lifespan: 14-18 years
Coat: long, short
Color: fawn, brown, grey, silver, black, and white
Do They Shed: moderately
Temperament: alert, headstrong, loyal, and bold
Intelligence: high intelligence, short attention span
Socialization: hostile to other dogs unless socialized at an early age
Destructive behavior: can be very destructive unless trained
People Skills: bond with a single person, feisty towards strangers
Good with Children: no
Activity Levels: highly playful, need daily exercise
Do Deer Head Chihuahua meet AKC breed standards?
No, Deer Head Chihuahua does not meet AKC breed standards. According to the AKC, a Chihuahua has to be 5 to 8 inches tall and 6 pounds or lighter to qualify for dog shows. Since most Deer Head Chihuahuas are bigger, they aren't allowed to compete in shows.
Should the AKC recognize Deer Head Chihuahuas?
Deer Head Chihuahuas are Chihuahuas in every way, and the AKC should recognize them.
How long does a Deer Head Chihuahua mix live?
Depending on the breed they're mixed with, Deer Head Chihuahua mixes may live for 7 to 18 years.
How much does a Deer Head Chihuahua mix cost?
Depending on the parentage, the Deer Head Chihuahua mix price starts from $400 and goes as high as $1200.
Famous Deer Head Chihuahuas
Deer Head Chihuahuas gained recognition during the '90s when one was used as Taco Bell's mascot. The "Taco Bell Chihuahua" (real name Gidget) was behind the surge in popularity of Deer Head Chihuahuas.
Gidget's fame carried it to Hollywood, where it starred in Legally Blonde 2 alongside another famous Deer Head Chihuahua, Moonie, who also starred in the movie's first installation.
Is a Deer Head Chihuahua right for me?
Deer Head Chihuahuas are small dogs that are easy to carry, feed, groom, and clean up after. They are full of love and don't require much space to live. If you want your dog to have these qualities, Deer Head Chihuahuas are perfect for you.
However, if you have young kids at home or prefer things peaceful, then the Deer Head Chihuahua may not be your type.
Related Questions
Are Deer Head Chihuahuas rare?
No, Deer Head Chihuahuas are not rare. They are pretty common. However, pure white and pure black Deer Head Chihuahuas are very rare.
How big do Deer Head Chihuahuas get?
Deer Head Chihuahuas can grow up to a height of 12 inches and can weigh as much as 10 pounds. 
Resources:
https://www.akc.org/dog-breeds/chihuahua/
https://onlinelibrary.wiley.com/doi/full/10.1111/j.1939-1676.2011.0695.x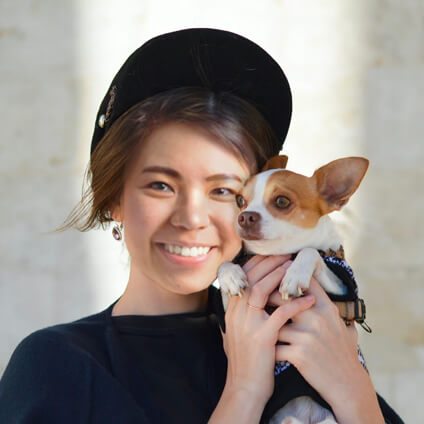 I'm a pet lover who has years of pet sitting and grooming experience. I thought it would be a great idea to share my experience with all pet owners so they can also keep their canine companions healthy, happy, and clean!