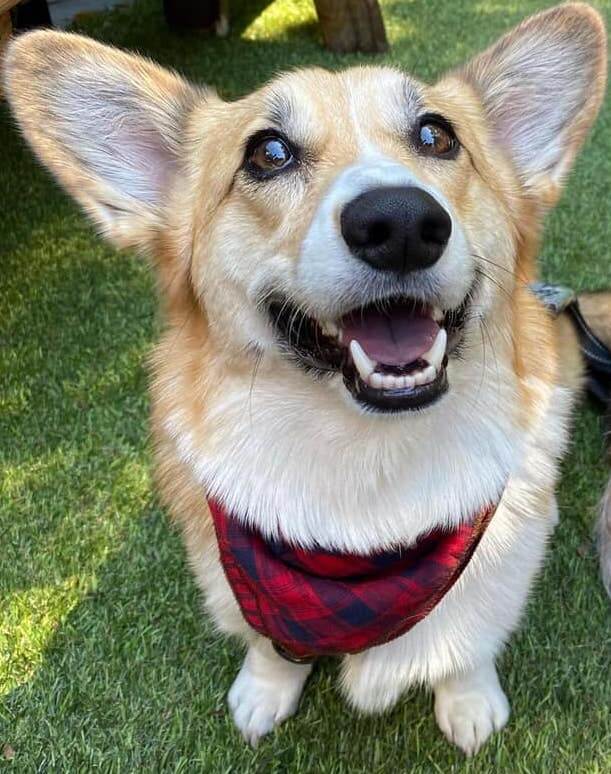 Teaching your furry friends to sit is pretty simple because dogs tend to sit naturally. The "sit" command is one of the most important basic dog training commands that every dog should know.
If you have dog breeds that naturally love to run, jump and climb fences, trees, and walls, the sit command will train them to settle down a bit in one spot and focus their attention on you. If your dogs love to run around and climb in your backyard, you'll want to get a wireless dog fence so they can stay safe and contained within your backyard.
The sit command training is crucial because it helps lay the foundation for the "stay" command as well as other complex commands. It is important that your dog associate the word, "sit" with the sitting action.
If you're a first-time dog owner, it's important to note that you should always have dog treats ready. We recommend soft and small treats or ones that your dog loves. If you prefer training your dog with a clicker, have your clicker in hand. During the first few training, it is crucial to choose a location that is quiet, private, and free of distractions. For example, your backyard or a quiet park are good options.
At What Age Should I Teach My Puppy to Sit?
As young as 6 to 8 weeks of age, puppies can begin learning simple obedience commands such as "sit" and "stay." Puppies are capable of learning a lot from an early age. If you have older dogs without mobility problems, they can also learn to sit when asked.
Proper Sitting Position
When your dog's hocks and bottom are firmly and securely planted on the ground, she is in the proper sitting position. Note that it's natural for some dogs to cheat as their hocks will "hover" above the ground a little. When this happens, make sure not to reward with treats until her bottom is planted firmly on the ground. Once your dog is sitting properly, she should continue to sit there until you release her with a cue. Dog trainers will often use the word, "Ok" as a release cue. If your furry friend gets up, don't worry. Once she learns the "stay" command, this will help her to sit and stay until you release her. Consistent training is key. It's important to set aside 5 to 10 minutes a few times a week to work on this.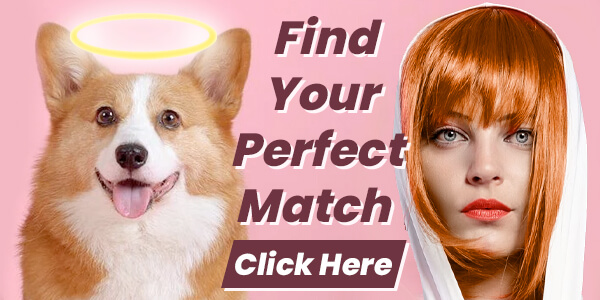 Train With Dog Treats
It is always best to train with dog treats such as the Zuke's Mini Naturals. These treats are soft, chewy, and great for training. To get your dog's attention, have treats in your hand, and show them to her. A lot of dog treats will be needed. If it's helpful to you, you may want to get a training treat pouch to store the treats without the inconvenience of having to hold the treats in your hand all the time.
2 Ways to Teach Your Dog How To Sit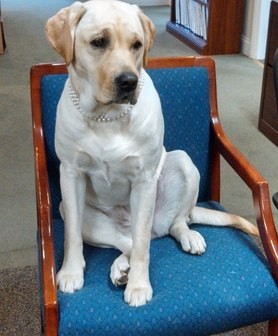 There are two ways to show your puppy or new dog what "sit" means. If you prefer, you can use both of these methods at the same time or just stick with whichever one you're most comfortable with that's best for your dog.
1. Luring
The first method is called food-luring. This method is a great place to start. Here, you'll want to get down in front of your puppy and hold the dog treat to lure her. It is best to have the treats just above your dog's nose. Try not to hold it higher than that because that may incorrectly cue her to jump and get the treat. In order to get your dog to sit, move the treat back toward your dog's ears while keeping it close to her head. This will cause your dog's nose to turn upward to follow the treat and try to nibble at the treat. Most dogs will sit when the treats get to a certain point. As soon as your dog's bottom sits firmly on the ground, praise her with "yes!" or "good dog" in an upbeat happy tone and allow her to eat the treat. Repeat this luring technique a few times. Once you feel your dog understands, you can remove the food and use just your empty hand. Do continue to reward your dog as soon as she sits. If you feel that she understands the hand signal to sit, you can transition to the next step. Start by saying "sit" right before you give the hand signal. If you have a clicker in hand, click it and immediately give your dog the treat followed by praising and petting.
2. Capturing
The second method is called capturing. With dog treats in your hand, stand in front of your puppy. Then, wait for him to sit. Once she sits, say "yes" or "good dog" and give her the treat. Next, step back or to the side. This will encourage her to stand and wait for her to sit again. Once she sits, give her another treat. Repeat this a few times. After a few rounds of practice, once you say "sit," she'll sit. The capturing technique works best for high-energy or bouncy puppies and dogs.
Repeat the Process With Cue Word
Repeat the above steps until your dog naturally sits when she sees the treat above her nose. Then, add the cue words. While holding the treat in the position as before, clearly say your dog's name followed by the word "sit." For example, "Buddy, sit." Practice makes perfect so it's best to repeat this several times. Each time you use the word "sit," gradually phase out the hand motion. You should keep using the treat, but start phasing out the hand motion.
Practice, Practice, Practice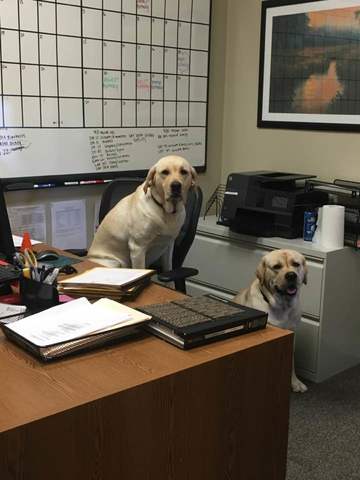 Again, consistent practice makes perfect. Every day, it's important to hold short training sessions throughout the day. Practice in different locations, including both indoors and outdoors. This is the next step because you want to naturally increase the distractions in your dog's surroundings. You'll want your dog to sit no matter what distractions are present. Make sure to end every training session on a positive note with dog treats. Remember to be patient and stay calm.
Once your furry friends have mastered the "sit" command, they are ready for leash training. If you're wondering what age to start leash training a puppy, we recommend starting leash training at 4 to 6 weeks old.
Proofing the Behavior
Please note, never push your dog into a sitting position if she does not sit on her own after a few tries. If you physically put her in a sitting position, she may get confused or upset. It is not ideal for dogs to learn under forced pressure, including yelling or punishment. Also, dogs rarely respond to negative reinforcement. Negative reinforcement only creates confusion. The best way for them to learn is through encouragement, a calm environment, and dog treats. Try delicious appealing treats like fresh meat, hot dog pieces, string cheese, or liverwurst.
If you are still having trouble getting your furry friend to sit with these delicious appealing treats, it is a good idea to mark the behavior. Observe your furry friend and spend some time watching her behavior. When you see your dog naturally sitting on her own, praise, and reward her with the word "sit." Do this every time you see your dog sitting. We recommend carrying treats with you at all times to make this effective. If you have a clicker, carry the clicker with you at all times as well. It's pretty easy to catch her behavior with a clicker. As soon as your dog knows how to sit on cue, you can take her to different locations with varying distraction levels and train her the "sit" command. This is called proofing the behavior. It ensures your furry friend will be able to obey this command, no matter when or where it is given.
While walking your dog to different locations, you can use a retractable dog leash to give her more space to walk. A retractable dog leash also provides your pup the flexibility to walk at her own pace and discover the environment around her. Best of all, she is still under your control.
The Zuke's Puppy Training Treats are soft and small, which makes them great for puppy training. Each bite is wholesome and tender and your puppy will want more of it. The small treat size allows your dog to focus on the training instead of focusing on chewing her food.
Thus, the treat is not distracting her from the training. Each treat is less than 3 calories so the reward is guilt-free. No matter which flavor you choose for your puppy or dog, each of them is made of real ingredients with whole food berries.
Zuke's Puppy Training Treats Key Features:
Comes in various flavors: Chicken, Peanut Butter, Duck, Peanut Butter & Oats, Pork, Rabbit and Salmon, Lamb & Chickpea
Comes in 3 different sizes: 5 oz, 6 oz, and 16 oz pouch
Made of real ingredients and whole food berries
Less than 3 calories per treat
Wholesome, small, and tender bites
Zuke's Puppy Training Treats Reviews:
Many owners said their dogs loved all the flavors of Zuke's Mini Naturals and were happy with the small size of the treat during training.
Owners noted that these treats are great for dog training and teaching their puppies tricks.
The majority of the customers' dogs love and are crazy about these treats. The owners recall every time they hand out the treats, their dogs and puppy get very excited.
Almost every positive review said they love how these quality training treats are made of natural ingredients and that there are no artificial colors or flavors.
While some customers noted how strong the treats smell, they did point out that this powerful scent makes them a strong food lure during training and a rewarding, healthy treat for their dogs.
A few customers pointed out that if you leave the treats out on a table for a while, the treats will easily dry out. If you aren't careful and the treat bag isn't sealed properly, the entire bag can dry out in days.
The PetSafe Treat Pouch provides pet owners with the convenience of storing dog treats during training sessions or out for a walk. The dog treat bag comes with multiple dividers to separate multiple treats and offers dog owners an easy way to grab treats and reward their dogs. There's also a front pocket where owners can put in their keys and phones. A detachable belt and belt clip are included with the pouch.
PetSafe Treat Pouch Key Highlights:
The pouch comes with multiple clips and loops to attach whistles or poop bags.
Versatile pouch with a front pocket for keys and phone
The pouch is waterproof, machine washable, and stain-resistant
Ability to store multiple different treats with the help of divided inner pockets
The hinged opening provides convenience. The opening stays open and closes with a touch
What customers are saying:
One customer who is raising future Service Dog puppies for Service Dog organizations praised the pouch for bringing convenience to her everyday training sessions.
Many owners said the hinge and closing features are great. It eliminates dogs that nose dive into the treats and the hinge is long-lasting.
Owners love that the pouch has large pockets with dividers, which allows them to separate the low and high-value treats. The pouch size is also perfect for them.
A lot of the owners love the front pocket feature that allows them to put their phone and keys inside.
A few customers said it was a bit difficult for them to get the treat without having to fumble or look for the correct pocket, but that they will get used to it.
If you're looking for a positive form of training with your dog, implementing clicker training is very useful. The Downtown Pet Supply Dog Clicker with Wrist Band ensures that you only hold the clicker when needed. When your dog accomplishes the commands, you can reach for the treats and drop the clicker and it will hang beautifully on your wrist. When you've finished training, you can wear the clicker on your wrist and not worry about losing it. The big button provides you easy clicking and the loud sound is great for training your dog.
Downtown Pet Supply Dog Clicker with Wrist Band Key Features:
Comes in different bright colors: Red, pink, blue, black, and green
Sturdy clickers come with a wrist strap
Clicker fits in the palm of your hand and is comfortable
Big button provides easy clicking
Loud sound for training
Comes in 4 Pack, 5 Pack, 12 Pack, and 25 Pack
What customers are saying:
Many owners love how the button is very easy to click and the sound is just right – not too loud and not too soft. The sound does not startle other pets in the house.
Some happy owners noted that they would use the clicker whenever their dogs are distracted. Once their dogs hear the click, they immediately stop what they were doing and paid attention to the owners.
Owners mentioned that the clicker works beautifully and gave them immediate positive results.
The majority of the owners said they were happy with the clicker's functionality as well as the bright colors.
Some customers said the clicker wasn't as loud as they had expected.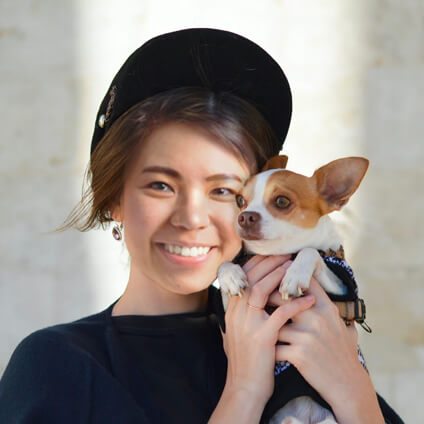 With over five years of specialized experience as an animal writer, my expertise lies in dog nutrition, health, behavior, grooming, and training. I am dedicated to delivering helpful and informative content that caters to the well-being of our furry friends. My primary goal is to empower pet owners with knowledge and ensure our canine companions thrive in health and happiness. In my free time, I love volunteering at local dog rescue centers.